AMS
Attendance Management System (AMS) is the easiest and most user-friendly method of controlling attendance for faculty and students.
About the AMS
Administrators of educational institutions in India and around the world are worried about students attending classes on a regular basis. It has an impact on a student's overall academic achievement.
The simplest way to help teachers and Heads of Departments (HOD) manage student attendance online is through the attendance management system (AMS). The system is simple to use, and it is simple to store and retrieve attendance.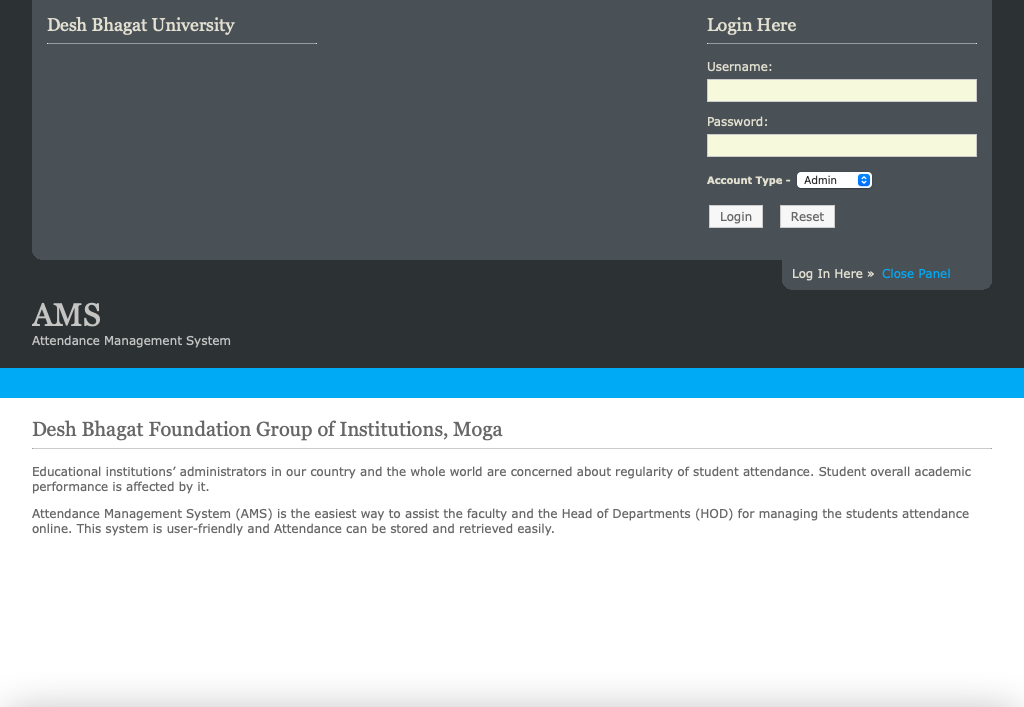 Features
Four panels are provided by the Attendance management system (AMS) to control faculty and student attendance.
Admin Panel



The software's administrator has complete control over how it is run. The following are the principal administrative duties:

User Management

The administrator has the ability to add, edit, and remove users.
Additionally, the admin can grant, update, and cancel access permissions.

Application Master

Manage courses
Manage labs, lecture halls, classrooms, etc.
Control the lock-in period for lecturer attendance
Organize the month of the semester Change
Manage semester change Month

Reports Management

View and print daily reports
Edit reports
Delete reports
Principal Panel

View and export reports
Unlock past date attendance for lecturers
View fines
Other roles can be added by admin

HOD Panel

View and export reports
Adjust lectures of faculty
Shift students to next semester (only in allowed month by admin)
Create, assign and edit time table
Register students and faculty members
Other roles can be added by admin

Lecturer Panel

View the schedule (by date using the calendar)
Mark attendance of students (Only of allowed lock in period dates)
View marked attendance
Create, assign and edit timetable
View marked attendance
Edit marked attendance (only of allowed lock in period dates)